Solid State Photography Lighting with the Nite Flo 400A
Take the perfect picture with Solid State Photographic Lighting equipment. The center piece of our image capture system is our ability to activate thousands of watts of energy in literally a split second, and shut down once image capture is achieved. By installing our RF transmitter onto the Hot Shoe port of your camera, when you snap a photo, a wireless signal is sent up to 100 ft. away to the receiver in the Nite Flo 400 control unit. Once the signal is received, the control unit turns on the light array for a preset amount of time programmed by the user. By limiting light activation only to the desired time frame, we conserve power and extend the fuel reserve of portable generators.
We've designed this powerful unit to be compact, portable, and durable using a composite plastic enclosure. A vented fan inlet keeps the unit cool for hours under extreme heat, and an internal heater keeps the unit operating in extreme cold.

---
STB-50/50 LED Strobe Driver Module
The STB-50/50 is a free running, asynchronous strobe driver. Rather than a pulsed input, this unit simply turns on and off at a duty cycle of 50%, and frequencies from 10Hz to 1000Hz (custom frequency range available) This unit is perfect for freeze frame types of applications where the user needs to perform image capture of an oscillating or vibratory target. By adjusting the frequency of the strobe affect, you can slow down, or freeze the visual appearance of the target.
---
STB-300 LED Strobe Driver Module
The '300' is our best selling synchronous strobe driver. This unit is designed to be triggered by an external source such as a PLC, Framegrabber, or manual switch. The Strobe input accepts 2.5 to 24Vdc, the minimum pulse width is 20μs. Once triggered, the unit's Strobe Output terminal sinks up to 10A to ground for a period of time calibrated by the user via the adjustment potentiometer on the front of the unit. The on time or delay can be set from zero to 100ms. With an Overtemp interlock, we avoid thermal damage to the unit if operating under extreme heat conditions. If an overtemp conditions exists, the unit will go into standby mode, and the Overtemp LED on the front of the unit will illuminate. This unit is ideal for the following applications:

Machine Vision

High Speed Image Capture

Automated Inspection Stations

Pharmaceutical Process Control
---
STB-600 LED Strobe Driver Module
The '600' is identical in function to the '300', however, we have designed in an internal cooling system which increases the operating range of the unit so that we can avoid going into the Standy mode, and keep your critical automation processes going. We have kept the Overtemp function the same, and have improved overall performance.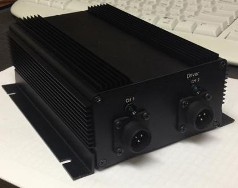 ---